The next phase of the Electronic Health Record (EHR) continuum is data sharing between healthcare entities. Once EHR data is digitized and used within a healthcare organization for improving patient care, optimizing workflows, enabling patient access to the information, and analyzing the data for improving healthcare quality and costs, how can this data be shared between organizations, e.g., between primary care and a hospital?
Why is Data Sharing important?
Improve Outcomes. Consider the advantages of quickly recognizing a patient's allergies, existing medications, and recent test results. This contributes to saving time and improving healthcare quality.
Reduce Costs. By quickly recognizing recent test results, redundant testing and the related cost can be avoided.
Patient Expectations. Our early focus group results showed that patients expected healthcare entities to be sharing relevant healthcare data already. They were surprised that this was not already happening on a widespread basis.
8 Key Steps to EHR Data Sharing
How does a healthcare organization enable sharing of their EHR data? Here are the key steps.
Legal and Privacy Concerns
The first concern is patients picketing outside your buildings because you were sharing their data without permission. Some organizations chose an "opt-out" approach, saying the data will be shared unless a patient specifically chooses not to. We chose a more conservative "opt-in" approach, having patients specifically signoff on the sharing of their data. This process was a smooth one, with few questions or concerns being raised. This may be related to our focus group results that such sharing was an expectation.
Internal Agreement
The data sharing project was designated a strategic project for our organization. Senior Leadership, including the CIO, participated with the Board of Directors in identifying and developing strategic objectives for the year. This project, focused on health care quality, was designated as one of our strategic projects.
Agreement between Healthcare Entities
You cannot share data if no one receives it. The CEOs of healthcare organizations in our region met and agreed to proceed with a pilot of the data sharing solution. What was the primary motivator? It was simply the right thing to do for our patients. The meeting assured high-level buy-in and reinforced the collaborative nature of the project.
Staffing
An executive sponsor was named for this strategic project, in our case the CIO. The scope was not limited to the technology, but extended to regulatory compliance and operational workflows as well.
A Health Information Exchange steering committee was formed, consisting of key representatives from each organization. This committee provided representation by each participating organization, and served as a vehicle for project communication.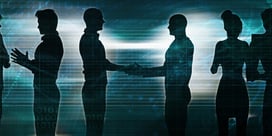 An internal project team, led by an IT Project Manager, consisted of cross-departmental representation including Urgent Care, Physicians, Marketing, Compliance, and IT. This team participated in inter-enterprise testing and project go-live.
Technology to Use
With the healthcare organizations in our region all using the same EHR software, the technology solution for us was an easy decision. We became one of the first implementations of the EHR's health information exchange in the nation. With more interoperability solutions and standards emerging, the technology options will continue to grow.
Pilot
To ease into data sharing, we opted to begin with a pilot and measure results before expanding. The pilot was defined as electronically exchanging healthcare data for patients presenting in an Emergency Room or Urgent Care facility of participating organizations. We chose to use surveys as a measure of results.
Survey the Stakeholders
The pilot was considered wildly successful. Based on survey results of clinical staff, including physicians, 89% found that data sharing improved patient care.
Anecdotal evidence: "A patient had been seen at [another] Emergency Department the day before. He was spared blood tests, a CT scan, and a neurology consult because I was able to access the records. It was great!"
Rollout
Based on the successful pilot, data sharing was deployed in additional departments and settings. This occurred in phases over time.
The Future
The future of EHR interoperability holds promise. According to HealthcareDive.com,
"… recent news has shown that legacy vendors are taking cues from other, more connected industries by warming to the idea of interoperability. In interviews at HIMSS17, Healthcare IT News reported top executives from Allscripts, Cerner and Epic revealed they are offering APIs that facilitate interoperability and patient identification."
Next Time:
We will explore the topic of Care Management, the next step in the EHR Continuum. How does an organization address helping the patient choose care options based on quality and cost? How can transitions (handoffs like from hospital discharge to primary care) be improved? What can at-home health monitoring devices offer?