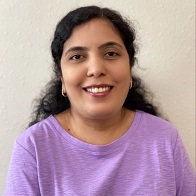 Saritha Ranga
Senior Recruiter
Saritha is an Adaptable, results-driven, and performance-focused professional with over 15 years of Recruiting/Talent Acquisition experience. She is a team player with well-honed interpersonal and negotiation skills with proven exceptional results exceeding expectations.
Specializing in IT, ERP, Cloud-based technology, Software Design, development, and administration. Solid relationship-building skills with clients, account managers, Project Manager, HR teams, and team members within a corporate environment. Saritha holds a Bachelor's degree in Computer Science from Kakatiya University.
Saritha has lived in Houston, TX, for over 20 years and enjoys spending time with family and friends.