20 minutes set to the timer. 35 successful female executives, investors, mentors, and subject matter experts. Combine that with a group full of nervous yet eager mentees/entrepreneurs ready to soak up every ounce of advice...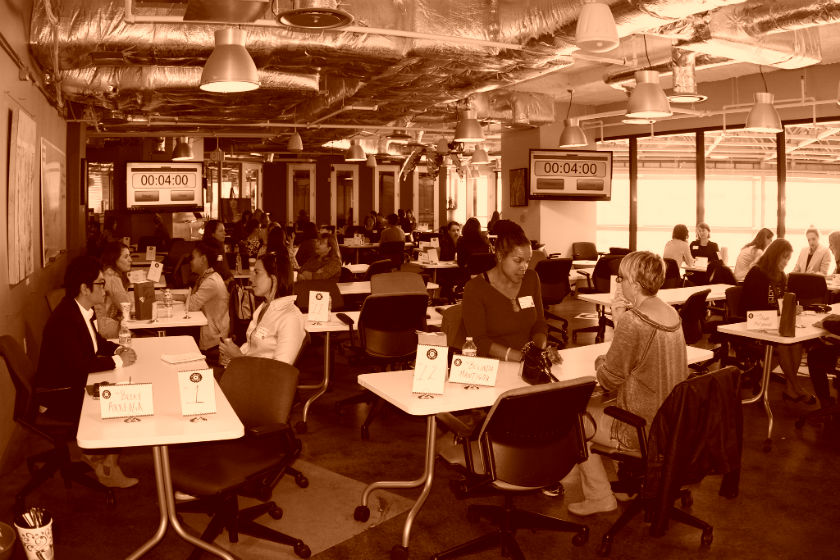 Source: Capital Factory
You are now entering Women's Epic Office Hours aka professional speed dating by Capital Factory. Last week, I had the pleasure of attending and meeting with leading females across the tech, marketing, law, and design industries.
Capital Factory
is a leading incubator and co-working space in Austin with an impressive event list, hosting almost four tech-related events per week. Thanks to Capital Factory, approximately 80 women were brought together to 'lean-into' the Austin community, and bounce experience, ideas, and questions off each other.
The roster was chock-full of impressive industry leaders, but the three mentors I had the pleasure of speaking with were Chris Makell, Deb Gabor, and Leigh Christie. Each brought completely unique backgrounds, personalities, and advice – with one trait being universal: the thirst for knowledge, and a willingness to soak up new advice, relationships, and even friendships from the women surrounding them.
1) Meet Chris Makell: FOUNDER, Chris Makell Training & Coaching; Global Career Inspirer
Chris is lively, charismatic, and has a tough layer of skin after having spent over 25 years as a woman in the technology industry. She worked her way up through the ranks, starting in an administrative role, moving to managerial roles, with a clear vision for rising up to engineer with IBM. She has a genuine manner about her, and I immediately felt comfortable spilling my business and professional guts on her lap.
Take-away from Chris
: "Be a voice not an echo" is a resonating quote of hers because she believes in the power of clarity and confidence. "The minute you start to act like you're different – so does everyone else." Chris explained the importance of intent while tackling diversity issues. "So what if you're the 'only one.' Get to the table, whatever it takes."
2) Meet Deb Gabor: CEO + Founder, Sol Marketing; Brand Dominatrix



Deb is the type of person you want center-stage. She has a demanding presence, and her passionate personality infuses every piece of branding she has ever touched. She is the founder of Sol Marketing, where she demonstrates her strategic branding skills with huge house-hold brands like Dell and HomeAway.
In our conversation, she highlighted the importance of a strong mentor, and in Deb's experience, "having the opportunity to work under a branding bad-ass was pretty vital." She has returned the branding bad-ass favor, and is currently a mentor to many young professionals in the Austin area as she regularly hosts branding and pitching workshops for young entrepreneurs.
Take-away from Deb
: Deb highlighted the importance of storytelling with emotion when it comes to successful branding. "Getting people emotionally involved is so key, you have to figure out how to pull on the heart strings. After the heart strings are pulled, people will do almost anything."
3) Meet Leigh Christie: Director Entrepreneurs Foundation; LemonAde-stand Extraordinaire
Leigh has an ease about her and a bright smile that immediately made me feel like I'd been working with her for years. She does a majority of the fundraising and event preparation for the Entrepreneurs Foundation, and has led the strategic development for the local, annual Lemonade Day which teaches youth how to effectively operate and differentiate their own business. She has a curious nature and emphasizes the importance of interacting and getting involved within the local community in order to further business initiatives.
Take-away from Leigh:
Leigh explained the value in taking personal initiative to build career skills, and said, "if you aren't getting the skills you desire in your workplace, find an opportunity in the community to get that skill."
Thank you again to Capital Factory for hosting, to the impressive list of mentors for taking the time out of their busy days, and to the entrepreneurs who joined the networking madness. Luna Data Solutions looks forward to the next one!