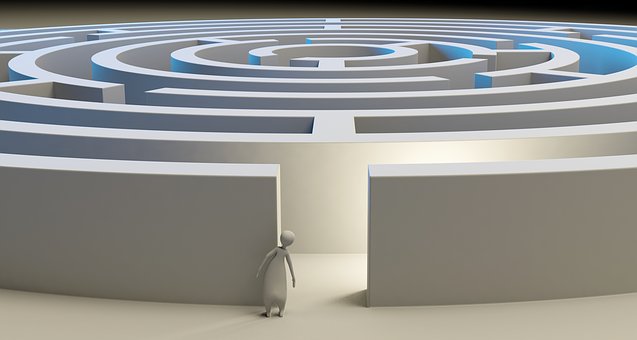 Given the overwhelming workload from the healthcare regulatory environment, the Electronic Health Record (EHR) continuum, and the expectations of today's "Holistic CIO," what steps can a healthcare CIO (or CMO, or CDO) take to survive? Here are general strategies to help navigate this maze.
Focus
If you can't do everything, focus on the most important things. Geoffrey Moore suggests separating core from context, in his book "Dealing with Darwin." Core things are those most important to the organization, while context is everything else. For example in healthcare, core may be the EHR continuum while the Human Resources system may be context.
Hiring consultants for EHR implementation makes sense, using their expertise and proven skills to assure implementation success. Longer term, build an in-house support capability for the continuum of EHR work to follow. Rather than relying solely on consultants longer term, look to focus your time, energy, and staff on core areas.
Consider:
Reallocating existing staff to core as a long term investment, and backfilling their prior context responsibilities with new hires. Look for knowledge transfer from the consultants and invest in training of in-house staff.
Outsourcing some context systems like HR, using the cloud and Software as a Service solutions. Healthcare has been historically sensitive about using the cloud. I see this changing. For context systems, however, that sensitivity may have diminished.
Skills for the Cloud. What skills are needed in establishing and managing an outsourced/cloud relationship? Some useful skills include: negotiating contracts, establishing and monitoring Service Level Agreements (SLAs), meeting with the vendor to review performance, overseeing and maintaining the vendor relationship, and responding to issues or crises that arise.
Are you focusing on core?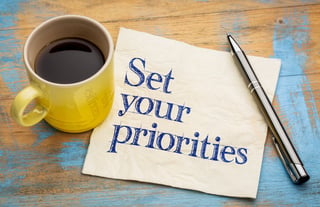 Prioritize
If you have focused your resources, what are the right projects and in what order? As Stephen Covey wrote in the "7 Habits of Highly Effective People", do the first things first. Work with your business executives to establish a prioritized list, driven by the business needs and strategies. This can be a highly sophisticated and intricate prioritization scheme, or it can be a lite version. Consider
Reviewing the project list. Does the project need to be done at all? Does IT need to do it?
Prioritizing the work. Work with business executives to determine what will get done with available resources. If additional resources or funding is still needed, collaborate with the business executives to address this additional need.
Executing the projects effectively. Use the appropriate project management methodology. In my experience, a lightweight project management methodology (let's call it "PM-EZ," like a 1040-EZ short form) was sufficient for most of our projects.
For more details, please see my article on this topic (4 Steps for Attacking the IT Project List).
Have you clearly prioritized the work you need to do?
Staffing
The Society for Information Management's (SIM) 37th Anniversary IT Trends Study, taken by over 1200 SIM members (including 490 CIOs), reported "staffing and skills" as one of the top 3 things that keep CIOs up at night. Considering an overwhelming healthcare IT workload, it is no surprise staffing made the top 3.
Here are some thoughts on staffing:
Move key staff to core, as described above.
Retain existing staff. Staffing begins at home. Work hard to keep the key players you already have on staff. Ignore them, and they may leave.
Show appreciation. Say "Thank you." It goes a long way toward retention if you acknowledge and express appreciation for the efforts of your staff.
Seek win-win. Look for opportunities to balance the needs of the company with the needs of the individual. Where you can strike a win-win balance, you have gone a long way toward staff retention.
Foster early detection. Being accessible to your staff enables you to proactively address issues before they cause someone to leave.
"We'll leave the light on for you." This Motel 6 slogan reflected my efforts to keep an open door to worthy staff who had ventured outside the company, into consulting for example. We would keep a light on for their return in case the new opportunity, the new culture or the new financial situation did not turn out as planned.
Grow the talents of your staff. Provide opportunities for staff to acquire skills and experiences needed for the future.

Fight for your training budget. When budget-cutting, it may be easy to cut training dollars, but such a move will not help the retention challenge. I sought low-cost, local training to spread the training budget as far as possible.
Provide opportunities for cross-training. This adds depth to your overall team and enriches the skills of the individuals. Develop lunch-and-learn sessions or cross-team internships.

Develop a pipeline. When there is a staffing need, have a pipeline of candidates already waiting. If you avoid building a pipeline until the need arises, it will be too late.

Stay in touch. This applies to individuals who have left your team, promising applicants who were not accepted this time, business users who may have expressed interest in your team, and colleagues in other companies. A periodic phone call or email keeps the person aware of your interest and may give rise to a hiring opportunity. I have hired individuals from each of these categories simply by staying in touch.
Leverage internships. Colleges and high schools may offer student internship programs for the summer or part-time throughout the school year. These programs offer low-cost, quality labor, while at the same time providing a try-before-you-buy experience in case there is a permanent hiring opportunity downstream. This offers the student a chance to enhance his/her resume and to experience your organization. Win-win!
Build a "hostage exchange" program. Think of an exchange of individuals on a bridge in the morning fog. I have applied this swap idea within the company. A business user joins the IT team for a limited time, for example six weeks, to learn about our processes and challenges. He/she is assured of going back to the business team when the assignment is completed. In return, an IT person temporarily joins the business team to learn their processes and challenges. This is an investment in two people, a broadening experience for both. I have learned that it also creates long-term allies within each group.

Partnerships
You cannot do this alone. Partnering with the right vendors can help.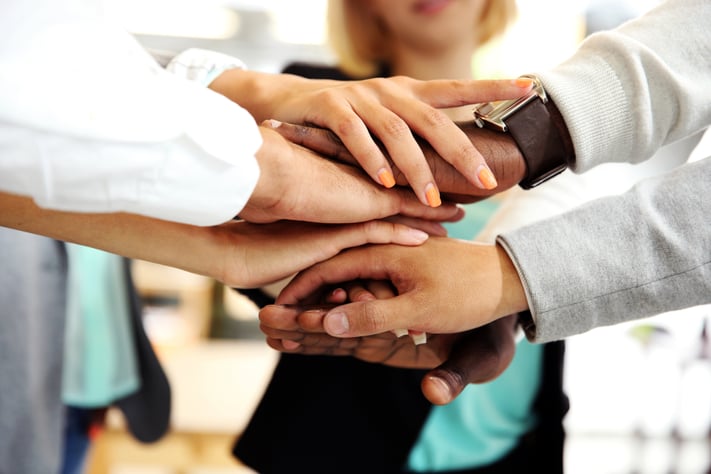 Experts at EHR and/or Ancillary system implementation can help mitigate the risk of such a large and important effort. Use them.
But these experts should not be expected to support your systems forever. That strategy would not be financially viable. Plan for a transition to in-house staff. This means backfilling in-house staff members to free them to support your core systems. It means investing in their training and experience.
How to backfill for these in-house resources moving to support your core systems? I would suggest selecting a vendor to help with finding, vetting, and placing the needed backfill resources. This staffing process is time-consuming and not core. Select a vendor to be your strategic staffing partner, not just to satisfy a transactional need. Look for a deeper relationship, a vendor that will support you on your longer staffing journey.
Staffing quantity and capability within the organization affects the organization's ability "to engage in important projects in a timely manner to deliver business value," the SIM survey reads.
Are staffing and skill shortages keeping you up at night? Do you have the right vendor partner?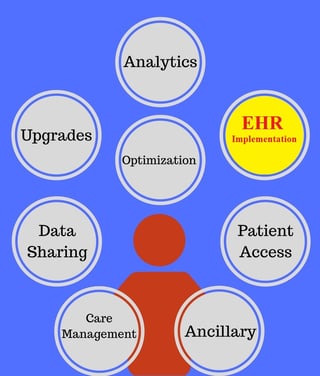 Read The Holistic CIO for the next step, EHR Implementation.