Landing an interview with YETI is a challenging feat, and finding the YETI headquarters is an adventure in itself. The building still has no signage, but when you do step inside the YETI world, it is buzzing with energy. The office is expanding rapidly, and they have nearly doubled their team in the last year with no plans of stopping anytime soon.
CRACKING THE CODE WITH A $300 COOLER
YETI was born in 2006 in the Texas backwaters by two brothers, Roy and Ryan Seiders. Their mission was simple, "build the cooler we'd want to use everyday." A decade later, they have built the cooler that millions of people want to use everyday. This vision has allowed them to continue to dominate the high-end cooler market with one reason: a damn good product, and a 'goldmine of grassroots marketing.'
Photo Credit: YETI
To learn more, we sat down to interview Trish Olives, the Creative Services Lead at YETI. We chose Trish to be a member of the Luna Change-Maker Series for her award-winning creative team and continual dedication to the YETI brand.
*Check out our other Luna-Change Makers
MEET TRISH OLIVES, CREATIVE SERVICES LEAD

Trish Olives hands me a YETI Rambler as we get situated in one of the conference rooms. My eyes are distracted by a sea foam, limited edition cooler as we get ready to talk about her journey to YETI, and the bright future of the company itself.
PN (Phoebe Nygren): What creative journey led to your current role with YETI?
Trish: "Even as a kid, I always wanted to be in creative roles. I went the advertising route with a degree from Southwest Texas, as it was the best way to be creative and not be broke. I honed my technical chops at my first job with a biotech firm which gave me a great foundation bridging the creative and tech gap. From there, I jumped into the start-up world with a cyber-security company before heading to Golfsmith as an Art Director."
#Builtforthewild – A DURABLE BRANDING STRATEGY
PN: In your opinion, what is the most important part of telling the YETI story?
Trish: "Authenticity is key. When you're talking to a serious hunter – they're going to see through your bullshit. One thing our content team is doing is developing a film series which encompasses our authentic brand by bringing a real, character-driven story to life."
Trish highlights the 'in Current' story which describes the quest for Amber Shannon to earn a coveted seat rowing a dory in the Grand Canyon – a journey that can take more than 20 years to earn a spot. These films show how YETI products fit into the adventurous lifestyle of their consumers. YETI Ramblers and Coolers are used sporadically, but the real branding power lies within the struggle to persevere despite the situation, and the story behind it. They are telling rad stories that people can connect with.
PN: Specifically, how does your creative team use this story telling to enhance the YETI brand?
Trish: "We use the same storytelling in supporting distribution in our custom emails, displayed content on our site, and through our ambassador stories in our catalogs. Our team is full of talented designers, copywriters, photographers, and other creatives who contribute to our art direction. We have also partnered with Mcgarrah Jesse since 2012 and they have helped craft our brand alongside our internal creative team."
THE SCALING BEHIND THE STORY
YETI has seen immense growth, and there is no turning back now. As they continue to build out and diversify their product lines, the demand for great talent is higher than ever. Their team has more than doubled in the last year to nearly 300 people, and there are currently over 25 open positions on their website.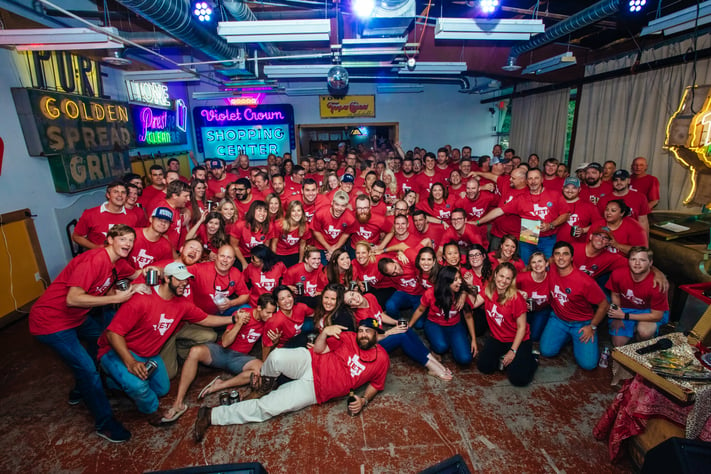 Photo Credit: YETI
PN: What would you suggest to those dreaming of being part of the YETI team?
"Be spongey. Those who are willing to soak up any and everything have been the most successful employees here at YETI. If you understand what we're doing and have a desire to keep improving it, you will excel here." -Trish
PN: What makes YETI different?
Trish: "It goes back to our founders Roy and Ryan. They had a very clear vision of what they wanted to do and why they wanted to do it. Moving forward, everyone needs to stay true to that vision. It all goes back to the quality of product and the experiences we can deliver. If we keep an eye on that vision, YETI will continue to be great."
The YETI story is one that touches on the emotional heart strings of the most rugged outdoor enthusiasts, and as they stretch both their product offering and territories, the YETI tribe will continue to expand into all types of brand enthusiasts. YETI is diving deep into some top-secret product development, and we are proud to feature them as a Luna Change-Maker for their dedication to upending an industry, and staying true to their core customers.
A huge thank you to Trish Olives for inviting me into the YETI offices, and sharing her part of the YETI story.
Connect with YETI on Facebook, or Instagram. Be sure to check out their short video series for some serious inspiration!